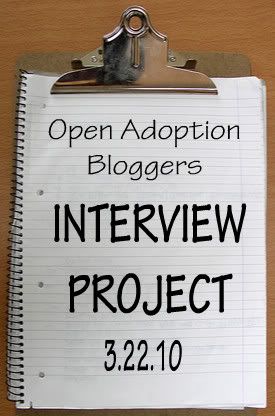 PRODUCTION NOT REPRODUCTION
will be hosting
THE GREAT INTERVIEW EXPERIMENT.
Sign up on Heather's blog to be part of the fun.
The details:
1. Sign up no later than March 5.
2. By March 7, I will send you an email letting you know your interview partner's info.
3. Read through that person's blog. You don't need to read their entire archives. But read enough to get to know them a little, especially their posts on adoption.
4. Send your partner 5-10 creative questions by email. They don't all need to be about adoption.
5. Answer the questions your partner sends to you.
6. On March 22, post the interview on your own blog, introducing your readers to another fabulous open adoption blogger.